BATHTIME ROUTINE
This post has been compensated by Collective Bias, Inc. and its advertiser. All opinions are mine alone. #JohnsonsLovesBaby #ChooseGentle #CollectiveBias
Savannah loves bubble baths!!! Her favorite scent is lavender which is the perfect aroma to calm her down before nap and bedtime. We've been using JOHNSON'S® baby products since she was born and what I love most is that it's 100% gentle + free of parabens and phthalates. They just launched a new and improved formula, that's even more gentle than ever!
JOHNSON'S® products now have a new label plus 50% fewer ingredients. The formula is dye free, sulfate free, worry free! Like I said before, we've been loyal to the JOHNSON'S® brand since Savannah was born. In fact, they are the # 1 choice of hospitals which is why I chose to purchase the Baby Wash & Shampoo as well as the Bedtime Baby Lotion and Bedtime Bubble Bath. I still have the older bottles, but the new bottles have a much better enhanced functionality with a pump top to make it easier to utilize when I have my hands full.
One of my favorite products from their line is the classic JOHNSON'S® Head-To-Toe Baby Wash & Shampoo. The JOHNSON'S® No More Tears formula makes this baby wash tear-free and as gentle to your baby's eyes as pure water. It's safe for a newborn's sensitive skin and good for the whole family. I actually used this baby wash growing up as a child and I remember their signature scent very clearly. I also purchased the Bedtime Baby Lotion and the Bedtime Bubble Bath…I am obsessed with the lavender scent! It's so soothing and gentle…I've been incorporating into Savannah's bedtime routine since she has trouble falling asleep at night.
As a new mom, I only want the best for my baby and Savannah loves these products just as much as I do. That's why I trust JOHNSON'S® and am so excited to use them on my next baby! Here are some tips that I hope will help you all enhance your baby's bath/bedtime routine:
Add the Bedtime Bubble Bath while the tub is filling up.
Make sure the water is warm to the touch (and not too hot!)
Use the Head-To-Toe Baby Wash and lather all over baby's body.
Allow baby to play with toys (or fresh flowers) to relax and calm them before nap or bedtime.
Once bathtime is over, dry off baby + apply Bedtime Baby Lotion for a soothing treat for baby's skin.
I picked up these products at my local CVS Pharmacy and since it's actually down the street from us, Savannah and I got to enjoy a nice walk there and grabbed some lunch after we shopped. I love how convenient it is and not to mention the perks of being a CVS member! Right now at CVS Pharmacy , you can Buy 1, Get 1 50% off on JOHNSON'S® Baby + spend $20, and get $5 ExtraBucks! It's the perfect time to stock up and save so don't miss out on this offer! I hope you all enjoyed my post and try the new formula out for yourself…they would also make a great gift for any mama-to-be! There's nothing better than a happy, freshly-washed baby! :)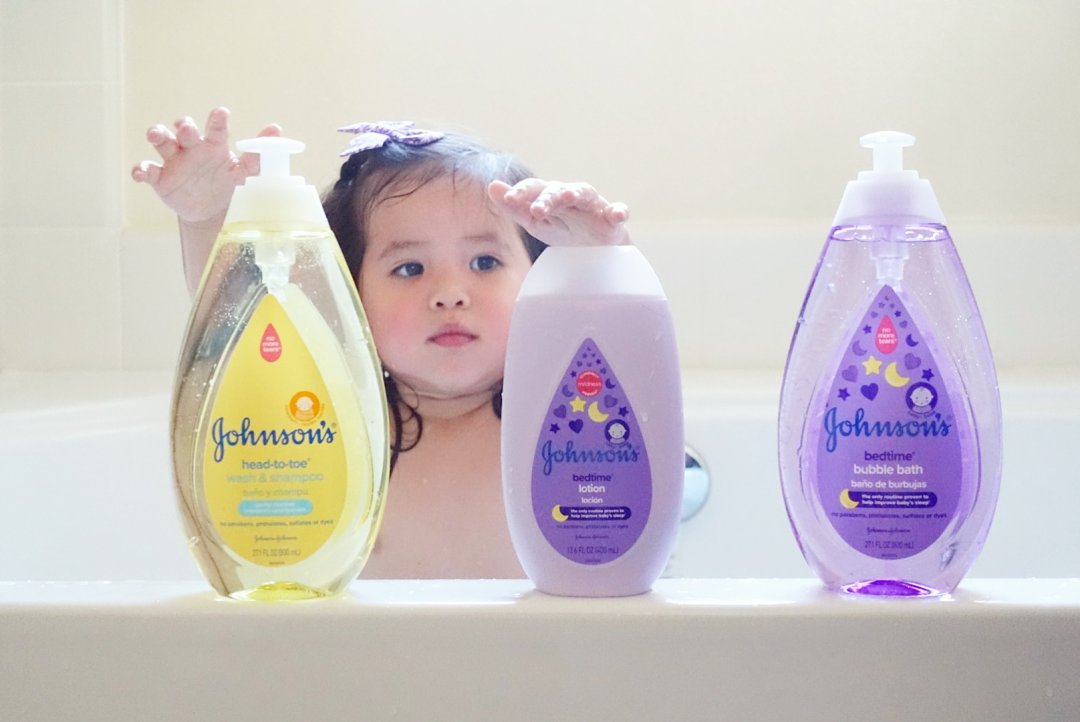 Hover over the tags above to see information about purchasing these products! :)